• Shri Shyam Baba
Om Jai Shrishyam Hare, Baba Jai Shrishyam Hare
Khatudham Virajat, Anupam Roop Dhare ||Om Jai||
Rattan Jadit Singhasan Sir Par Chanwar Dhure |
Tan Kesariya Bago, Kundal Shrawan Pade ||Om Jai||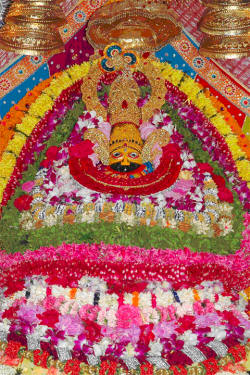 Gal Pushpo Ki Mala, Sir Par Mukut Dhare |
Khewat Dhoop Agni Par, Deepak Jyoti Jale||Om Jai||
Modak Khir Churma, Suwarn Thal Bhare |
Sewak Bhog Lagawat Sewa Nitya Kare||Om Jai||
Jhanjh Katora Aur Ghadial, Shankh Maridung Dhure |
Bhakat Arti Gave, Jai Jaikar Kare||Om Jai||
Jo Dhayave Phal Pave, Sab Dukh Se Ubre |
Sewak Jan Nij Mukh Se, Shri Shyam-Shyam- Uchrae||Om Jai||
Shri Shyam Baba Ji Ke Arti Jo Koi Nar Gave |
Kahat 'Alusingh' Swami, Man Vanchit Phale Pave||Om Jai||
Jai Shrishyam Hare, Baba Ji Shri Shyam Hare |
Nij Bhakto Ke Tumne, Puran Kam Kare||Om Jai||

• Prayer
Hath Jod Vinti Karu, Sunio Chit Lagaye.
Das Aa Gayo Sharan Me, Rakhio Mahari Laaj.
Dhanya Dudharo Desh Hai, Khatu Nagar Sujjan.
Anupam Chavi Shri Shyam Ki, Darshan Se Kalyan.
Shyam-Shyam To Ma Rattu, Shyam Hai Jiwan Pran.
Shyam Bhakat Jag Me Bade, Unko Karu Parnam.
Khatu Nagar Ke Beech Me, Banyo Apko Dham.
Phalgun Shukla - Dwadashi, Utsav Bharti Hoaye.
Baba Ke Darbar Se, Khali Jaye Na Koye.
Umapati, Laxmipati, Sitapati Shriram.
Lajja Sabki Rakhiyo, Khatu Ke Baba Shyam.
Paan Supari Ilachi, Attar Sugandh Bharpur.
Sab Bhaktan Ki Vinti, Darshan Devo Hazoor.
'Alusingh' To Prem Se, Dhare Shyam Ko Dhyan.
Shyam Bhakat Pawe Sada Shyam Kripa Se Maan.