Shyam ji is also worshipped in the form of Lord Krishna. Thus, the vigour in the festivity mood derives its flavour from the changeable and colourful nature of Lord Krishna.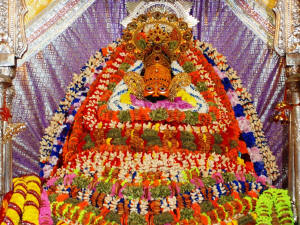 Ekadashi / Dwadashi : (Shukla Paksha - 11th & 12 of every month.)

Ekadashi gains its importance from the fact that Shree Shyamji was born on 11th day of Shukla Paksh in the month of Kartik.

Dwadashi Shree Shyamji donated His Head "SHISH" to Lord Krishna during the great battle of Mahabharata - "SHISH DAAN".

Darshan on these two days are very auspicious and thousands come regularly every month from all parts of the country. The temple remains open throughout the night of Ekadashi for darshan.

Devotees engage themselves in Bhajan-Kirtan on the Ekadashi night (Jaagran). Renowned bhajan singers from different parts of the country sing Bhajans for the deity in different dharamshalas throughout Khatu.
Nishan Yatra

It is believed that your wishes are granted if you offer a Nishan at the temple.Nishan YatraNishan is a triangular flag of a particular size, made of cloth, which is hoisted on a bamboo stick. It is carried in one's hands while covering the route from Ringas to Khatu on foot. Nishans are offered in millions during the Falgun Mela, and it is a site to see.