Temple of Shri Khatu Shyamji is situated in district of Sikkar in state of Rajasthan, at a distance of 17 km from Reengus.
Distance From Delhi : 300Km
Distance From Jaipur : 80Km
Distance From Sikkar : 60Km

Shyamji devotees organise programme of Shyam Darbar in different parts of India and have Bhajan/Kirtan etc. during the whole night. They also organise and arrange buses for going to Khatu Shyam Ji to have Darshan of Shyam Baba.

Travel Guide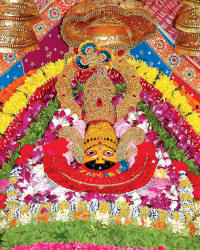 By Rail :
Khatu Shyam Ji devotee should purchase railway ticket from Delhi (Sarai Rohila Station). And should get down at Reengus Junction. From There devotees will get Taxis, Jeeps etc. for reaching Khatu Shyam Ji. Which is 18 km from Reengus.

By Road :
If you want to travel with your own vehicle, take to National Highway No. 8. Which connect to Jaipur. After reaching Shahpura approx. at a distance of 22 km from take Chandbazi right turn to reach Chomu. From Chomu the road goes straight to Reengus which reaches to Shri Khatu Shyam Ji. (Which takes approx. 6 hrs. from Delhi).

Travel From Delhi
By Private Vehicle Delhi to Gurgaon - Maanesar - Dharuhera - Bagroad - Kotputli -
Shahpura - Chandbazi - Chomu - Reengus - Khatu (Distance approx. 300 km)

By Bus Veer Hakikat Rai (Sarai Kale Khan) Bus Terminal
Delhi Transport Corporation, Hariyana Roadways, Rajasthan Transport's buses whole day goes to Khatudham.